International sales – Buyers are responsible for any additional Import Duty Taxes
Keyless Digital Smart Slim Door Lock V3 with Ultra Slim Mortice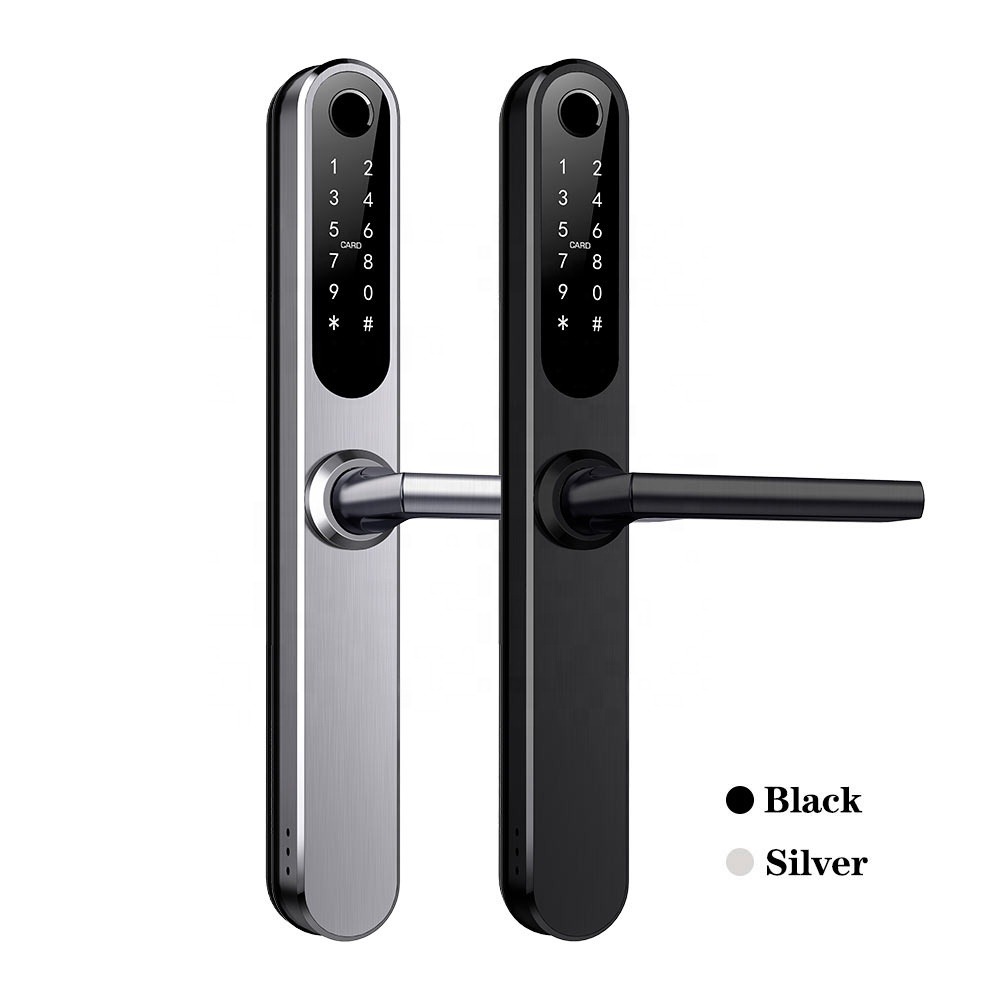 Keyless Digital Smart Door Lock V3 with Ultra Slim Mortice
Slim sleek design to fit all doors including aluminium framed domestic and commercial doors – see mortice dimensions in images.
Door lock is also suitable for all standard timber doors.
Access is by either fingerprint, key code, key card, physical key, mobile phone app via Bluetooth or Wi-Fi (optional Gateway required).
Package includes the stainless steel mortice lock, door jamb striker plate and all accessories.
The Ultra Slim Mortice lock is just 42.5mm wide overall, the mortice plate is 2mm thick, the mortice itself is 17mm thick – see photo for more measurements.
Door handle protrudes out from the face of the door by 77.5mm with seal fitted and 76mm without seal, important to check you gap if you have a screen door fitted.
2 Colours – Silver (stainless steel) or Black (stainless steel powder coated)

Product Introduction
Made from 304 stainless steel with a width of only 38 mm (door lock) making it perfectly suitable for narrow framed aluminum doors (check the mortice width in our images), however can also be used on standard timber doors with a door thickness up to 65mm thick as the package includes a standard and an additional long square shaft.
With advanced TTLock APP management via Wi-Fi and Bluetooth to connect the smart lock to your smartphone, you can manage your smart door lock directly from your mobile phone.
Left Hand vs Right Hand Hinged Doors
The door lock is suitable for both left hand and right-hand hinged doors, the door lock comes with instructions on how to easily change the handle lever to be on the left-hand side.
We have done this on several of ours and its very simple to change.
Smart Functions
Using the TTLock smart app on your mobile phone you can
Send eKey code to another app user (maybe a family member)
Generate Passcodes (for the key code button panel)
Manage eKeys
Manage Passcodes
Set IC Cards codes (for using the key cards)
Set fingerprint scans for users
Set times that users can access door to unlock
View all records showing users who have unlocked and lock the door
Set Daylight savings mode
View battery levels in the door lock
Access Customer Service
You manage your smart lock anytime and anywhere
You can manage a large number of locks with just one phone
You can set time-limited, one time only or recurring passwords, suitable for various scenarios
You can lock users and/or user groups, lock (freeze) administrators
Calibrate the time and set daylight savings times
Set Passage mode, auto lock settings
Set the name for each door lock (patio door, rear entry door etc.)
Update Firmware from mobile APP
Receive Unlock notifications on mobile app
Requires 4 AA Batteries for long lasting use (USB port at bottom for emergency power)
Low battery warning
Data capacity – 200 Fingerprint scans + 200 Key Cards + 200 Pin Codes
Setting User Access "Times for Unlocking"
Number Passcodes Access – Permanent, Timed, One Time (1 time use), Erase (usable for 24 hours only), Recurring (set certain day or days or weekend plus certain time frames)
Fingerprint Access – Permanent or Timed ONLY
RF Card Access – Permanent or Timed ONLY
For setting user access to unlock the door during a certain time period only, as an example; only between 9:00am to 5:00pm weekdays or only on a certain day, the keypad number passcode option must be used, this is for security purposes.
This option is not available when using the RF cards or fingerprint to unlock, again this is designed for strict security reasons.
6 Ways to Unlock
Bluetooth via mobile APP Access
Fingerprint scan (can set multiple fingerprints per user)
Key Card
PIN Code
Mechanical Key (located at bottom of lock)
WiFi via mobile APP access (optional and requires additional Gateway hardware)
5 Ways to Lock
Set automatic scheduled time locking (my preferred option)
Set automatic locking after being unlocked every time
Lock using the mobile APP via Bluetooth, either open app or use shortcut widget
Lock using WiFi via mobile APP – however additional Gateway is required
Manual key (located at bottom of lock)
Note: You cannot lock it manually at the door lock via the key pin code, fingerprint or key card – these are all for unlocking.
Best locking system that we recommend – Is using the mobile APP features for auto locking and to lock door.
Using the automatic scheduled time locking is ideal, as it will automatically lock the door at your set times and stay locked until you unlock it. Once unlocked it then goes into passage mode until it is locked again, either at your set times or when you decide to lock it using the app.
You can also set the door to auto lock with a set time after being unlocked, for example 5 seconds straight after unlocking, great for external or office doors that need to remain locked.
Additional security is achieved by raising the door lever upwards to activate the deadbolt (only usable when door is in the locked state).
Note, take your time with setting up the mobile APP with the admin user by following the procedure in the user manual. Do not attempt to skip a section as you will need to reset the lock and re-register it all over again.
Included in the package
Door Lock – front and back
2 Manual Keys
3 Keyring Key Cards
1 Mortice lock 48mm wide, suitable for all doors, narrow and timber
1 Stainless steel striker plate
1 Striker box for door jamb
All screws, bolts and U-Clip
Dustproof seals (fits between door lock and door face)
Installation template for marking out holes
User Manual which includes installation details
Google Home and Amazon Alexa
This handle is WiFi enabled for use with Google Home and Amazon Alexa, but you will need purchase a separate Gateway specifically for the TT Lock app (bridge between the lock and your WiFi network).
Search eBay for "TT Lock Gateway" – The Gateway must be specifically for the TT Lock