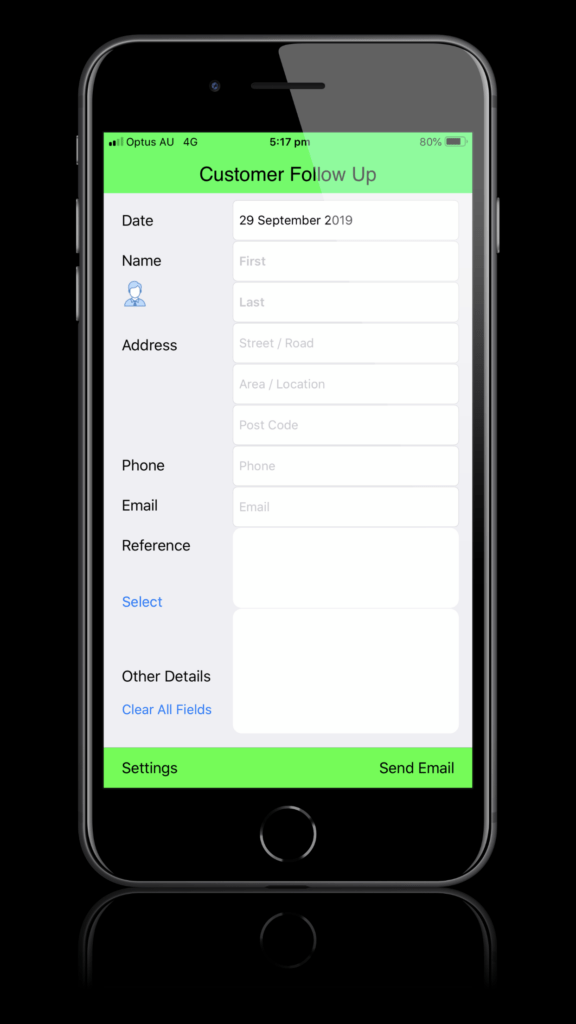 iOS Mobile iPhone App – "Customer Follow Up"
Available in the Apple App Store now click here
Do you always find yourself in the middle of a job at task when a customer calls ?
Usually you don't have your work diary or note pad on hand, or cannot find your pen to take notes about the call and detail of what the customer needs.
This app will solve that problem, let you quickly record all the information from your customer's phone call and then let you get back to the job at hand.
We understand the need to get back to the job you are doing as fast as possible but most importantly making sure you get all the necessary details from the call so you can follow it up at a later time when it is a more appropriate time to call back and discuss your customer's needs.
From our own experiences on the job and with no real suitable app on the market today, we went about creating this purpose built app to solve the problem.
The app allows you to set many "pre-defined" (default) references/comments that you would regularly use. Saving you much valued time from having to type them out every single time a customer calls. The predefined defaults are fully editable and customisable comments/notes.
You can even pre set your preferred "email to" field so you never have to re type this again either. Every time you send the email of the customer information to your office, your secretary or boss, it's already entered in for you, again saving you time.
The same for your "email from" field, you simply type in (once off) your chosen preferred email account to use.
Note: The preferred account must be an account that have setup on your iPhone in the email settings.
Using the App.
You simply place your caller on speaker phone, open the app and start entering the necessary details.
Enter their name, address, and phone number.
Then just select any of your pre set default references.
Also add additional comments and details if needed.
Then simply hit the "send email" button.
Done !
Now you can get back to work and follow the call up later on when you have more suitable time, the email will be sitting in your inbox to remind you to follow up on your customer.
This app is all about making sure you never miss a customer while saving you as much time as possible. Letting you get back to the customer at a more convenient time, when you can ensure your potential customer will be given the dedicated time necessary. Not when you're under the pump and hard at work.
Available in the Apple App Store now click here
For further support please contact us at info@ezebuilt.com