Crafton King Single Bed – Make Your Own Using These Building Plans and Save $$$
You will receive an email with a download link for the plans after payment is complete.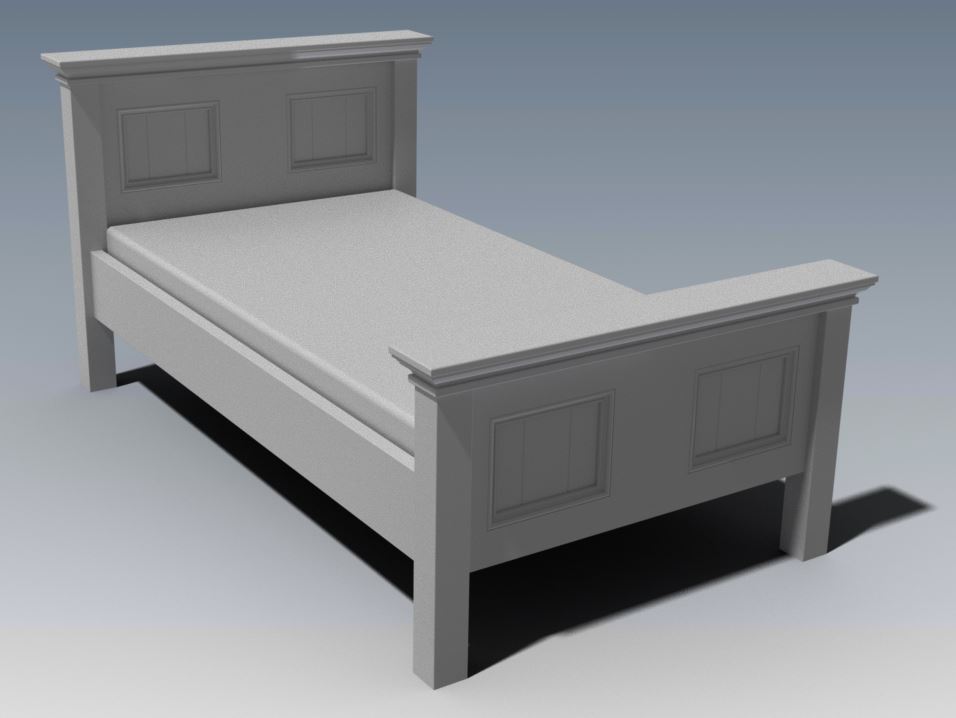 OVERALL SIZES
Sizes will be shown in one or more of the images

1 – PURCHASE MY BUILDING PLANS, THEN
2 – PURCHASE YOUR OWN TIMBER FROM YOUR LOCAL HARDWARE OR TIMBER YARD, AND

3 – BUILD THIS UNIQUE DESIGN YOURSELF USING MY PLANS AND SAVE $$$

These fully detailed building construction plans include all dimensions for cutting every component
A full material cutting list is included for you to easily obtain material quotes – All the hard work has been done for you !
All joint connections are designed using the old fashioned craftsmanship style – no metal brackets required where possible.
All angle cuts, all notches, rebates, trenching etc. have all been worked out right down to the last millimetre !
The design has been created using the latest state of the art 3D software to ensure that every part fits correctly.
All you have to do is cut your building materials according to my to the fully dimensioned and detailed drawings.
Once all members have cut and prepared, just assemble and fix like a jigsaw puzzle.
For overall sizes, please view the images which show the measurements.
IMPORTANT
This sale is for the purchase of complete detailed construction / building Plans Only – NOT the construction materials or the finished product.
You are paying for the design and supply of plans so you can make one yourself to save $$$

Hints and Recommendations
I recommended you use either pre planned soft wood, timber board from your local hardware or you could even use recycled timbers from your local timber yard and machine it to the required sizes in these building plans.
I prefer to use screws rather than nails where possible, a far better connection and no risk of hammer marks on the timber. Be sure to sink the screws in far enough to allow for filler putty.
Applying at least 2 coats of paint or furniture lacquer to ensure that no raw timber is exposed to the elements.
A light sanding between coats helps to give a great smooth surface.
Do as many cuts as possible using a mitre saw where possible, this will give a nice straight cut and better surface for painting.
Please follow all safety guidelines when using power tools and machinery.
Format of Plans
You will receive an email with a download link once payment has been made.
These working design and construction plans will be supplied ready for printing in A4 and/or A3 size, for easy printing on most home printers. A3 size plans can be printed on A4, you just can't scale off from it (not necessary any way).
All plans have been drawn to scale and will print to scale (when printed on their correct sheet size) enabling quick dimension check by the builder – plans are extremely detailed.
Every individual part of the design has been drawn to scale and they are usually on their own sheet.
A final component drawing is provided to show the location of all parts.
A full material cutting list is provided which you can also use to obtain material quotes and/or builders quotes.
Copyright of Plans and Designs
All our plans are copyrighted and bear the watermarks, logos and notification of copyright of SH Designs.
© All Designs, Drawings, Intellectual Property and The Right to Redistribute remain the copyrighted property of SH Designs.
100% Satisfaction
We strive to give the customer 100% satisfaction – Just like we would expect if we were purchasing for ourselves.
If you are at all not happy for some reason, please contact us immediately so we can try and resolve the issue.
Notes:
Unfortunately due to the nature of the item being sold no refunds are allowed.